I wanted to write up a quick post about a jewellery brand I recently discovered and LOVE!
Let me introduce you to Helix & Conch: a small-business, online store run by Abby, a down to earth mother of two, who has made it her mission to sell beautiful earrings at a really affordable price.
I'm sure you can see from the pictures below but her pieces are so beautiful, delicate and elegant. I've had my ears pierced my whole life (yes, really! I got my first ear piercings on my 1st birthday) and whilst I have added extra piercings along the way, I haven't worn jewellery on my ears for YEARS!
I put that down to simply not having found a style of jewellery that I feel comfortable in – I like my accessories to be simple, gold and small, not overly showy or extravagant! But Helix and Conch have filled this gap in my life and I can't get enough of them.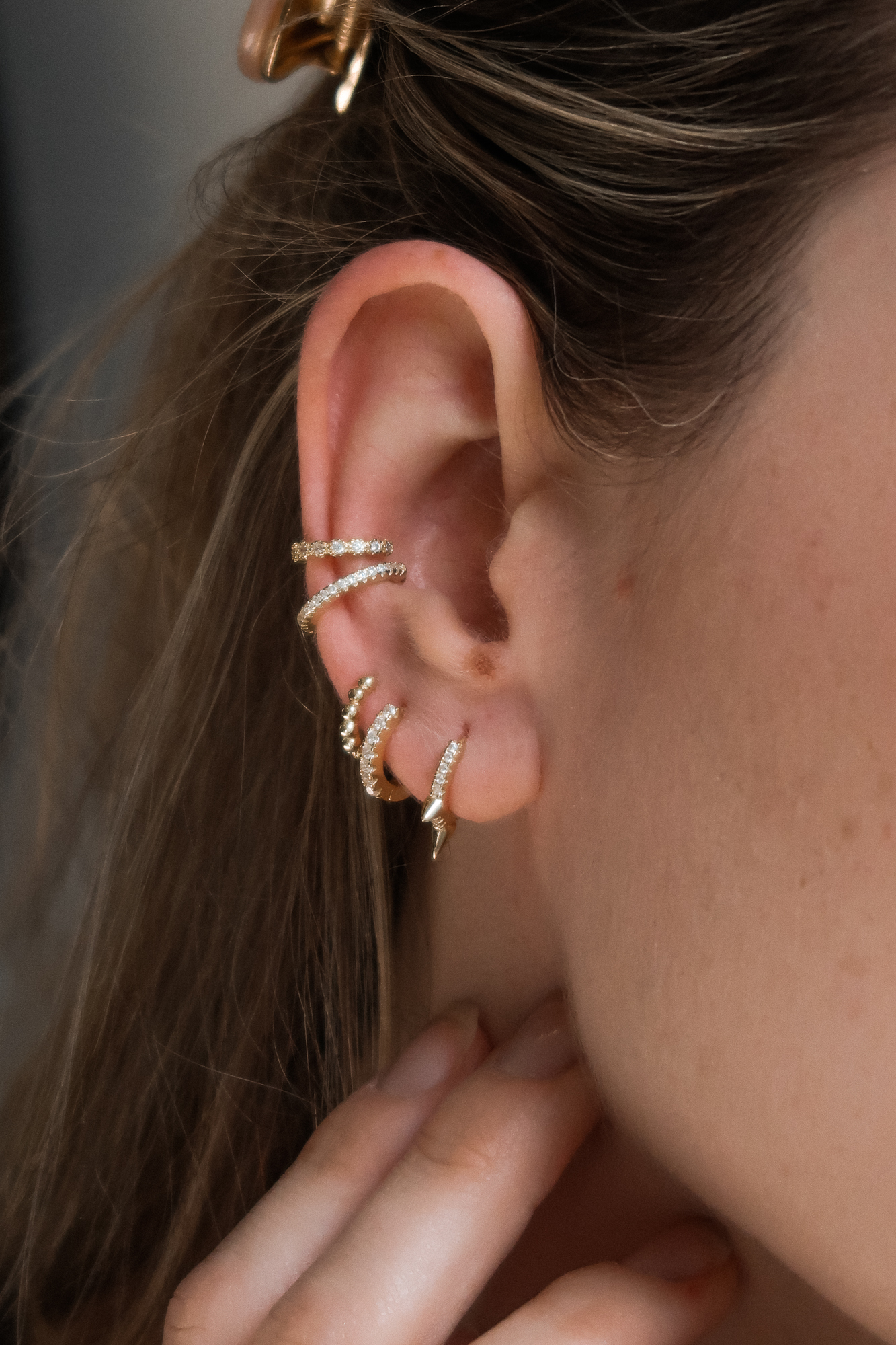 One of my other favourites things (along with the price) are the ear cuffs they sell. I don't have my conch pierced (I'm scared of the pain affecting my sleep whilst it heals), but Abby sells ear cuffs which are really easy to slide onto the conch and make it look like you have an extra piercing there. They stay in place all day once you've got them in the right position and being able to play around with layering different ear accessories has been so fun.
Also – you can buy certain earrings as singles, so you can mix and match and layer in any way you like.
I'll link the ones I'm wearing here at the bottom of the post, but if you'd like to purchase any I have a discount code: SNOOKS15 to get 15% off any of the items (apart from the solid gold items).
Let me know if you treat yourself to any of them!
Lots of love, Katie xx
PHOTOGRAPHED from bottom of the ear upwards:
Picchi Gold Spike Huggie Hoop: https://fave.co/2W9kg9p
Eterna Gold Single Huggie: https://fave.co/3y1QznV
Perla Gold Beaded Single Tiny Huggie: https://fave.co/3z1NqWv
Rojillo Gold Ear Cuff: https://fave.co/3CUVV85
Escena Gold ear cuff: https://fave.co/2WcJ3cG
Helix and Conch Instagram: https://www.instagram.com/helixandconch/