I am a complete concealer junkie.  I think it's the fact that I suffered with acne for ten years that just means I've always been on the hunt for a product that will conceal blemishes and imperfections without drawing attention to them.  On top of that, I seem to always have trouble finding products that are pale enough for my skin.  I might not look the palest, but pretty much all products I've tried in the past have oxidised on my skin leaving me with embarrassing orange patches… not ideal!
I thought this concealer review post might help some of you who are also on the hunt for your holy grail concealer as I've discovered some incredible ones over the last few years!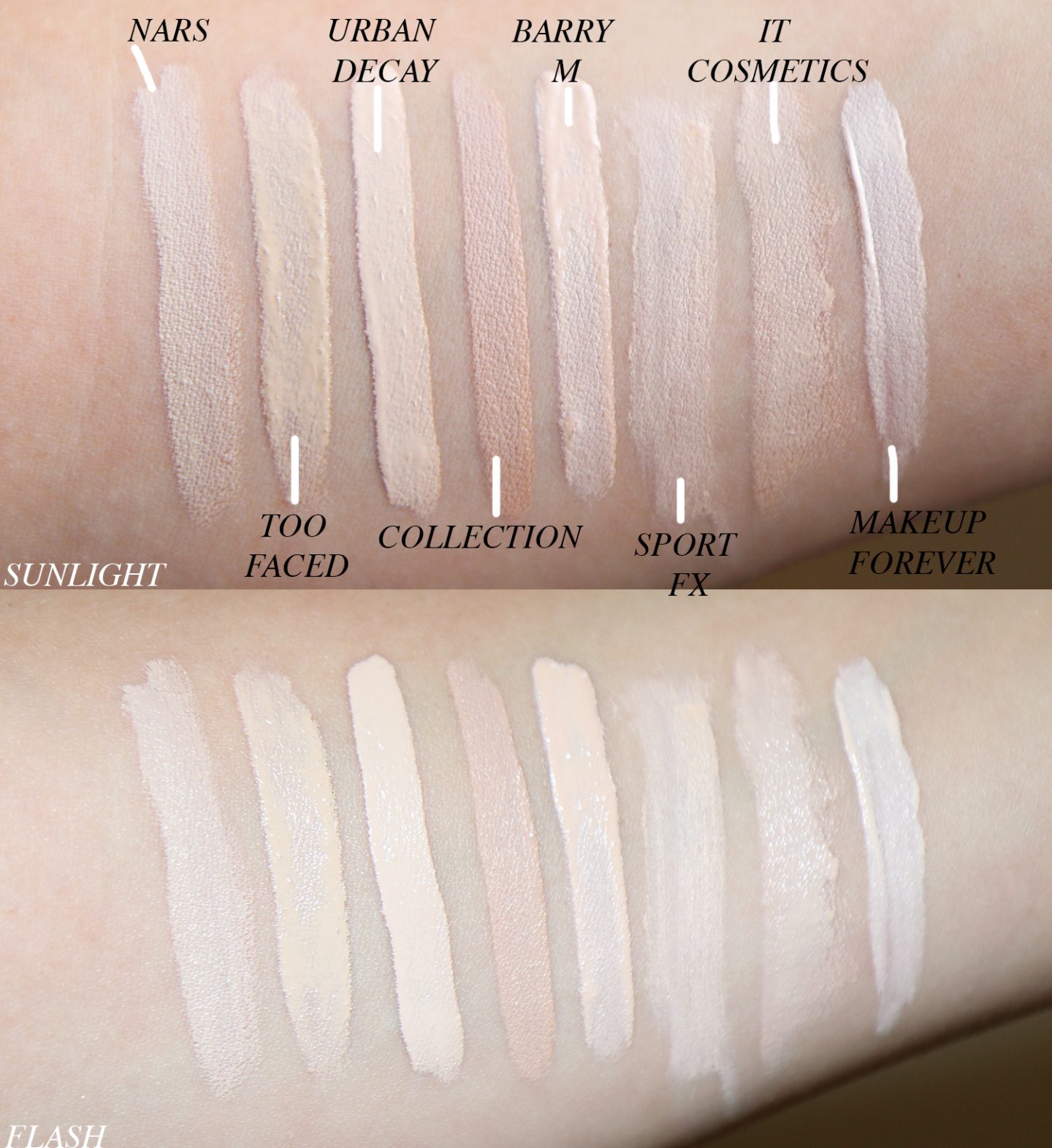 NARS Radiant Creamy Concealer: This is my holy grail concealer – I've been through 6 tubes of this in the past 3 years and I think it's definitely worth the price.  The colour range available is fantastic for pale girls; I wear the shade Chantilly and I think there's one even paler than this!  I adore the formula, it's pigmented, creamy and blends out blemishes and under the eye beautifully.  It doesn't crease in wrinkles and it doesn't look cakey.  It doesn't last all day but when set with a powder or setting spray it has much more longevity.  All hail Nars for this wonderful product.
10/10
Too Faced Born This Way Concealer: I adore the Born This Way Foundation so I was really excited to try this concealer from Too Faced.  It's great – has a wide variety of colours available, a nice formula and good coverage but I still prefer my Nars one over this!  It doesn't cake or crease however I'd prefer just a tiny bit more pigmentation.  Too Faced have recently re-launched this concealer with a higher coverage so I'll have to get my hands on that and see how it is in comparison.
7/10
Urban Decay Naked Skin Concealer:  I was lusting after this for so long and was so excited to finally purchase it from the Urban Decay Carnby Street store, but, I'm a little disappointed.  Despite being really pigmented, I feel like the formula is a lot more watery than Nars and so doesn't give the coverage I want.  It seems to sink into my skin.  The colour range however is just fantastic and would be good for those who like a lighter concealer.
6/10
Collection Lasting Perfection Concealer:  One of my all time favourite concealers – such a great affordable price for a pigmented, creamy formula that covers almost all imperfections.  I've converted my entire family to this concealer (even my Dad) and we all adore it!  I've swatched the shade Fair in the pictures above but they've since come out with an even paler one (extra fair) so there's a great colour selection for pale skin.  Also, it's normally on 3 for 2 in Boots/Superdrug which is also a plus.
9/10
Barry M All Night Long Concealer: I'm super impressed by the pale shades available in this BUT the formula just doesn't do it for me.  It's very similar to the Collection one but a little more watery and doesn't cover imperfections quite as well, but around the same price.
5/10
Sport FX Core Cream Concealer: I'm sad to say this is my least favourite concealer out of the bunch.  The colour is perfect for my pale skin but it's so light in terms of coverage and the formula is quite hard to work with.
4/10
It Cosmetics Bye Bye Undereye: This concealer is DREAMY and I would highly recommend it!  You need the smallest amount, literally the size of a poppy seed for the most intense, pigmented coverage imaginable.  This is designed for under the eyes but I use it all over my face, and because of it's formula it doesn't crease on the skin and instead looks fresh and dewy.  It's pricey but I think this will last a really long time – I'd recommend to all!
10/10
Makeup Forever Ultra HD Concealer: I purchased this in a Sephora in France before it was available to get on the UK high street (now available in Debenhams) and was super impressed to see it's actually the palest shade in this entire blog post, however it's not my favourite or most reached for.  It's harder to cover tough red blemishes and I think is quite pricey as well!
5/10
__________
Just for reference, my favourite way to apply concealers is with my ring finger and to lightly tap it into the skin to blend.  I find this way warms up the concealer enough to really sink into the skin and cover without looking cakey and enhancing imperfections.  I haven't really tried any of the concealers above with a blender or brush so can't comment on how they work with different tools – let me know if you think any of these would benefit from being applied a different way.
I hope this has helped some of you who are looking for a new concealer and find it hard to find colours pale enough!  If there are any other concealers you would like me to review leave me a comment down below and I'll get on it!
What's your favourite concealer?
Katie