I've always wanted to visit the Maldives – it's been my dream honeymoon destination for a very long time and I still can't quite believe that I managed to live out that dream with my husband this month! I wanted to share a review of the island resort we stayed at because I truly couldn't recommend it enough, and give a little backstory about how we chose where we stayed too.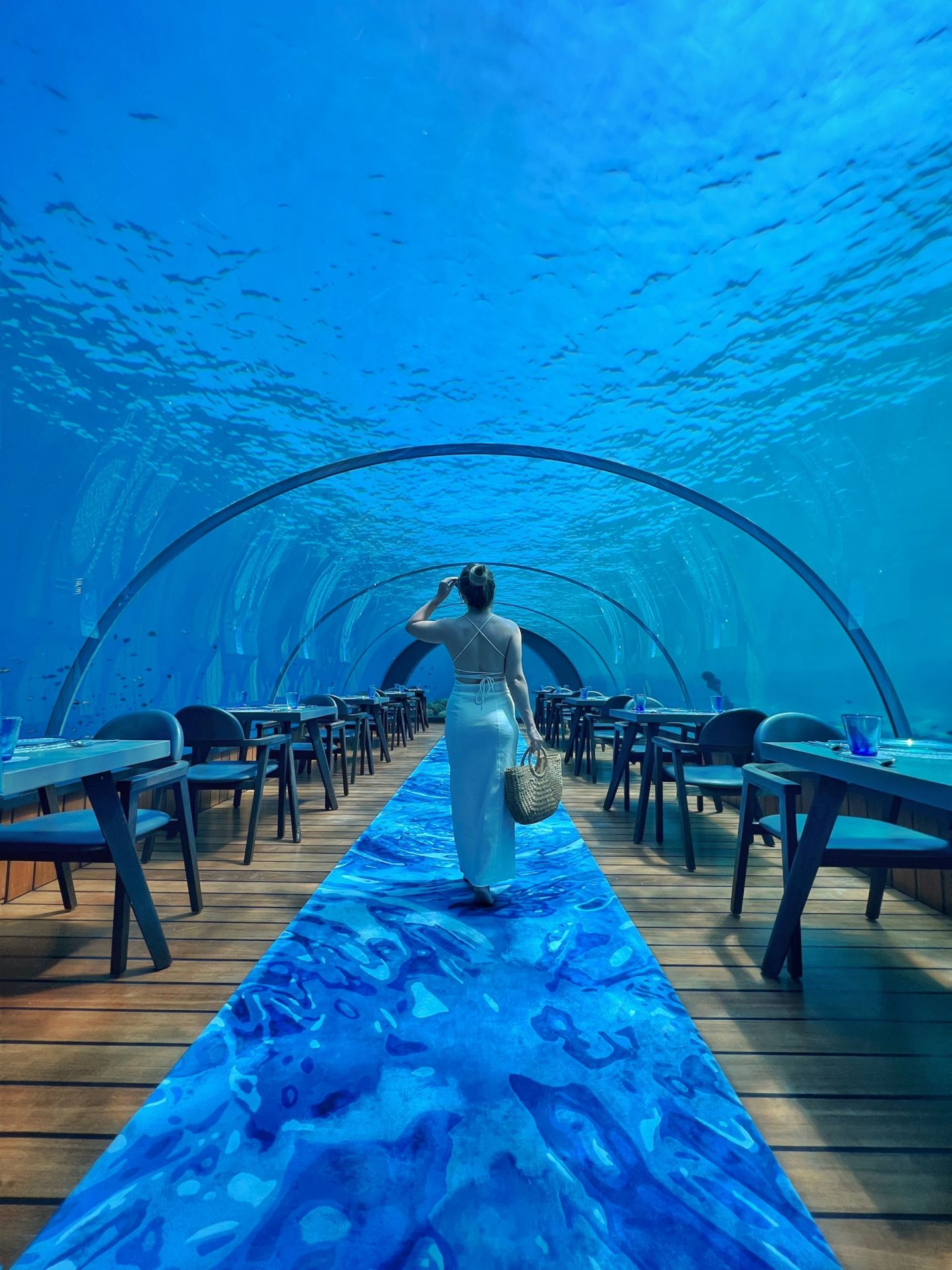 The planning:
Although our wedding was in April 2022, we knew that our honeymoon wouldn't be until at least Feb 2023 as that is prime weather season in the Maldives – not only did it give us time to save up but also meant we could take our time planning the trip. We had a couple of telephone meetings with a very popular honeymoon/travel agent who we were disappointed with – they didn't listen to our brief or budget + gave us suggestions for resorts that didn't hit the mark. We put our Maldives trip on hold and started looking at other honeymoon destinations (Seychelles, Bali) thinking we couldn't possibly afford our dream honeymoon at peak season, but couldn't let go of the idea of the Maldives!
After some more research we found a company called Simply Maldives – a UK based business that specialise solely in Maldives holidays. We had a call with Amit who listened to our requirements and our budget and came back with two options for us. He recommended Hurawahli as we said that food on holidays is important to us and not only did Hurawahli have 5 great restaurants, but it also fit within our budget. He took care of everything which was incredible, we really didn't need to think or worry about any aspect of our trip as he was there to book it all and give us advice – from flights, seaplane transfers, restaurant recommendations when there – it was all sorted! Big thanks to Amit for making our honeymoon booking experience so easy after what started out as a difficult process – link to enquire and arrange a call here!
Hurawahli
ACCOMMODATION: There are a range of villas available at Hurawahli with a mix of beach or water rooms. We stayed in a romantic ocean villa which included an over-water hammock and an outside bath tub on it's sunset facing deck. With steps directly down to the sea, it was a dream come true to dip into the crystal clear waters for a snorkel whenever we fancied or to lay on the hammock with a wine to watch the sun set. Our room was huge with the biggest bed I've ever slept in, a sofa area, a couple of desks and a gorgeous open plan wet bathroom with double sinks.
FOOD: The food at the island was one of the main reasons we chose this resort, not only does it boast 5 restaurants/menus, but it's also home to the award winning 5.8 restaurant – the world's largest underwater restaurant. Breakfast each morning was a huge buffet a Canelli restaurant complete with a fresh fruit + veg juicing station (with sugar cane juice which has become my new obsession), a tropical fruit station and everything you can imagine for breakfast, from cereals, pastries, hot buffet with sausages, has browns, to eggs Benedict, omelettes – they had it all! You can also dine a la carte at Canelli for lunch (highly recommend the crispy tuna steak with passionfruit and the calamari) and there is another huge buffet in the evening with the most beautiful soups, curries, meats, starters, desserts – it was a dream and a highlight of the trip!
There is asian street food restaurant Kashibo that serve everything from dumplings to sushi to curries, and within Kashibo sits a Teppanyaki bar which was another highlight for us. It's intimate as each booking only sits 6 people and we all dined on the 8 course set menu which is cooked up in front of you on a grill with so much entertainment from the teppanyaki chef (the food was beautiful – the okonmiyaki was incredible and the half lobster tail was the best I've ever eaten). There is also JFK offering up junk food from pizza, tacos and burgers and Coco Bar where you can order a huge variety of cocktails.
Our meal at 5.8 was one of the most incredible foodie experiences we had both ever experienced. The largest underwater restaurant in the world seats only 10 people each sitting and feels like you're living out a dream – dining next to bustling coral reefs watching fish swim past – it was magic. We had the 7 course Seafood menu with wine pairing which set us back £900 (by far the most expensive meal we've ever had) but was an experience like no other! The food was tasty and of a high standard but some of the dishes I found to be a bit too experimental. I really think you're paying for the experience of dining under sea here!
We originally booked the full board options which included all food except for the 5.8 + Teppanyaki reservations, however we upgraded to All Inclusive two days which meant all drinks were included too (again, apart from those in 5.8). The cocktails at the resort were incredible and being all inclusive meant I could order ALL the Pina colada's and Rieslings without worrying about extra cost.
ACTIVITIES: Despite the island being tiny (I think it took us 20 minutes in total to walk around the entire perimeter) there are SO many activities and things to do. When you stay at Hurawahli you download the resort app which allows you to browse and book all of their dining options + activities. Firstly, the snorkelling around the island was incredible. From our water villa it took us around 5 minutes of slow swimming to reach the edge of the reef where the coral + sea life is incredible. We saw so many tropical fish around the island, from parrotfish, angelfish, sharks, pufferfish – it was magic. If you're new to snorkelling there are many beginners courses you can book into to teach you the basics which we found really helpful!
We booked a turtle snorkelling experience where we hopped on a 10 speedboat ride to a nearby island home to seagrass + many turtles. This was an experience I will never forget – we saw about 7 turtles in total ranging from small green sea turtles to huge Hawksbill turtles.
The Sunset Dolphin Cruise was another highlight – an hour boat ride around the island channel at sunset where we managed to spot around 50 dolphins who gave us a show and followed our boat around. It was so beautiful + emotional that I cried!
There's also a beautiful Spa on the resort where we had a 2 hour couples package which included a foot spa, body scrub and full body massage. I also really enjoyed an hour paddle boarding session and there is a games room too with original arcade games, snooker and ping pong tables.
There's a sunset champagne pavilion at the end of the water villa deck where you can sip fizz and watch the sunset, a full range of romantic beach dining options and there's also a 'Dream Island' you can book – a fully deserted island you can hire out for two hours and enjoy a picnic entirely alone!
ISLAND LIFE: From the moment we arrived on the island to welcome drums by greeting staff, to the moment we left when dolphins came to say goodbye as we flew away in our sea plane, the stay was pure magic. When you arrive you are given a welcome drink and introduced to your island host who is your main point of contact during your stay. They are available on WhatsApp 24/7 to answer any questions you have and they can help with recommendations of things to do/weather updates/bookings and general chat! Our host Mala was incredible and made our stay so special – we were very excited to see some Bioluminescent Plankton during our trip and Mala would even go so far as to text us to recommend where best to see the plankton each evening and at what time! He also gave us tips on the best place to sit on the boat during the Dolphin Sunset Cruise and the best table to dine at in the 5.8 restaurant.
OTHER: Hurawahli was a 45 seaplane from Male airport + a 3 minute speedboat from where the sea plane lands. We flew from London Gatwick to Dubai (7 hours) with a 2 hour layover, before a 4 hour flight from Dubai to Male. Once arriving in Male a Hurwahli representative met us, helped us with our luggage + got us on the seaplane transfer.
I hope you enjoyed hearing more about our honeymoon. I absolutely couldn't recommend Simply Maldives or Hurawahli more and I'm desperate to go back! Let me know if you've visited or if you have another other Hurawahli recommendations.
Love Katie x