Ever since I started documenting my acne journey, one of the most common questions I get is 'how did I get rid of my acne scarring'.  I'm not over exaggerating when I say I get asked this at least 5 times a week through private messages and in comments on my videos!  I too have always been on the hunt for something that actually works.  There are so many products on the market focused at 'acne prone skin' and just as I never found a product on the high street to cure my spots, I never found something to help fade the red marks either… that was until now.
I've been trialling a product for the past 2 weeks and in that short space of time, I've already seen a drastic improvement in my skin and so I wanted to share the results today with some before and after pictures!
The product I've been using  is the Science of Skin, Solution for Scars cream.  I massage this into my clean skin for 1 minute, twice a day (morning and evening) until it's completely absorbed and after only 4 days I noticed that red marks left behind by my newest spots were already significantly fading!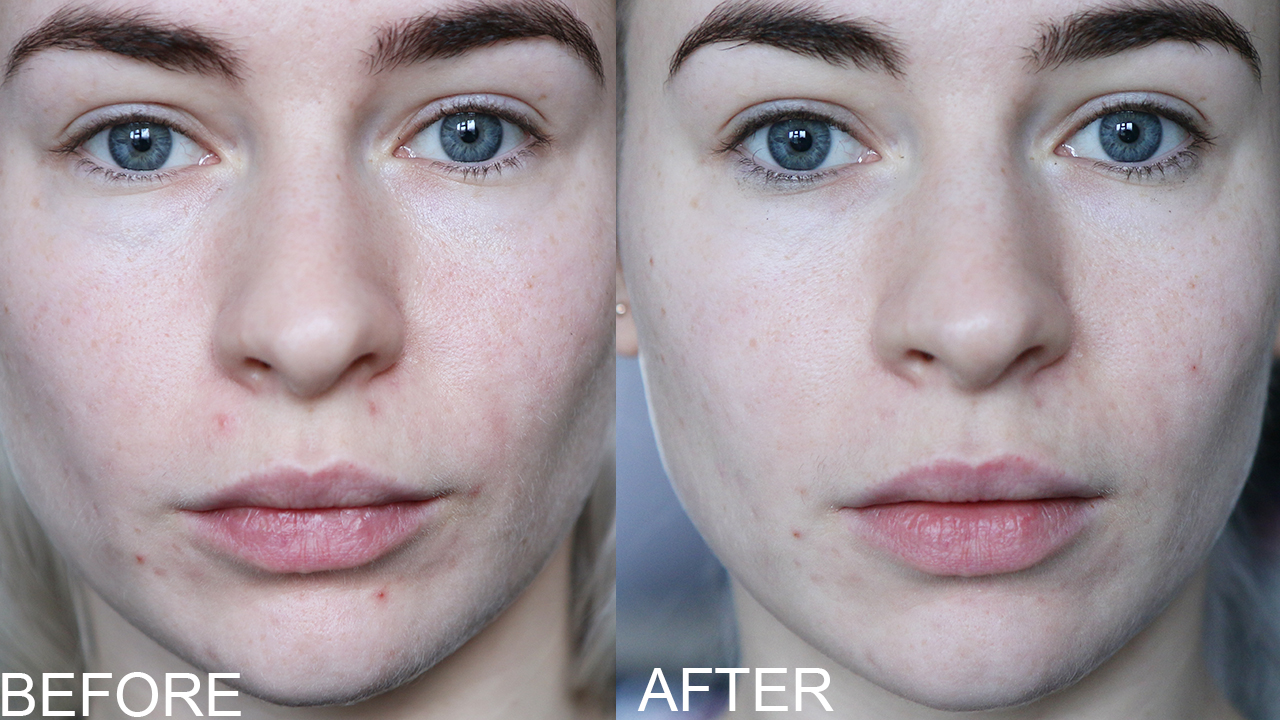 As my skin is very fair and pale, any marks left behind by acne has always looked very prominent and took a really long time to fade (months and years even).  The majority of my acne scarring has faded naturally since finishing roaccutane (although this has taken a year!!) but I've recently been breaking out with small spots which leave red marks and irritation and take months to heal by themselves.  But the fact these new red marks have really reduced visibility after just 2 weeks, is just mind-blowing to me who is so used to just always having red marks after a breakout!
As you can see in the before pictures, 2 weeks ago I was breaking out around my mouth and nose area a little (hormonal blemishes I suspect!)  and they were leaving little red marks all around the area.  2 weeks on, my skin is really clear, apart from some new little blemishes (and some old mature scarring on my cheeks left over from when my acne was it's worst).  The blemish under my nostril particularly (on the left hand side of my face) before was quite big and nasty and usually that would leave a red mark that would take months to heal, but as you can see it's quite dramatically reduced in the after pictures!
I can't recommend this enough to reduce the appearance of scarring including redness, irritation and visibility and you can of course also use it on other scarring such as chickenpox, bumps, grazes, surgical scars, burns etc!!
I would definitely say Solution for Scars works better on new fresh spots as opposed to old ones, that's where I've been super impressed!  It contains active Green Tea Extract (EGCG) which is clinically proven to reduce the thickness of scars and the appearance of redness, whilst also soothing and calming the skin.
_______
You guys know I've been so honest with all my acne struggles and I'm always willing to pass on recommendations if they work.  I know how frustrating bad skin can be and I've lost count of the times I've been excited to try new products promising the world to only feel crushed when it doesn't work for me, therefore I would really only recommend products I truly love and believe in!
You can purchase the product from the Science of Skin website (here) I excitingly have a 15% off voucher for the product which is KATIE15 – so do let me know if you're going to try this out yourself, I'd love to see your before and after pictures too!
I'd love to hear what you think of the before and after pics and be sure to let me know if you try it, I'd love to know!
Have you found any products great for acne scarring?
Katie xxx
This post contains an advertorial but everything mentioned is completely honest!!